Orange County Motorcycle Accident Attorney
The OC OTS 2018 crash rankings show that of the 20,145 fatal and injury crashes, 1,135 were motorcycle riders or their passengers. These figures rank the county as 17 out of 58 for motorbike crashes.
More and more OC residents rely on their motorcycles for their daily commute. However, this means they have to travel the 22 Freeway, 91 Freeway, the I-5, and the 405, all of which are notorious for accidents, particularly during rush hour. Bikes share these roads with truck traffic coming up from the Long Beach Port and lots of commuter traffic.
If you have experienced a motorcycle accident in Orange County and are suffering from injuries caused by someone else's negligence, you may benefit from working with a lawyer.
Here at MKP Law Group, LLP, we know the physical, emotional, and financial hardships that can result from injuries caused by serious accidents. Having an experienced local personal injury accident lawyer by your side is important to navigate the legal process and recover damages.
We always work on what is known as a contingency fee basis, meaning WE DON'T GET PAID UNLESS WE WIN. There are no upfront, out-of-pocket costs to our clients. Call us today at 310-285-5353 to schedule your 100% free consultation.
Why Hire an Orange County Motorcycle Accident Attorney?
Victims of motorcycle accidents tend to have far more serious injuries than occupants of cars. While a passenger vehicle is equipped with crumple zones and airbags, the free ride style of a motorcycle does not offer these safety features. Motorcyclists who get into a crash may make direct contact with the colliding vehicle and/or the road.
The severity of injuries following a motorcycle accident can leave a victim suffering from physical, monetary, and even mental damage. An Orange County motorcycle accident attorney understands the difficulties that come with these types of cases and can help a motorcycle accident victim with injuries caused by a negligent party build their case and recover the maximum amount of damages.
Often motorcyclists face a bias from insurers and others blame the motorcycle rider for the crash even before all the facts are in. This is far from justice, so our team at MKP Law Group, LLP is ready to fight on your behalf and get you the justice you deserve.
Common Causes of Orange County Motorcycle Accidents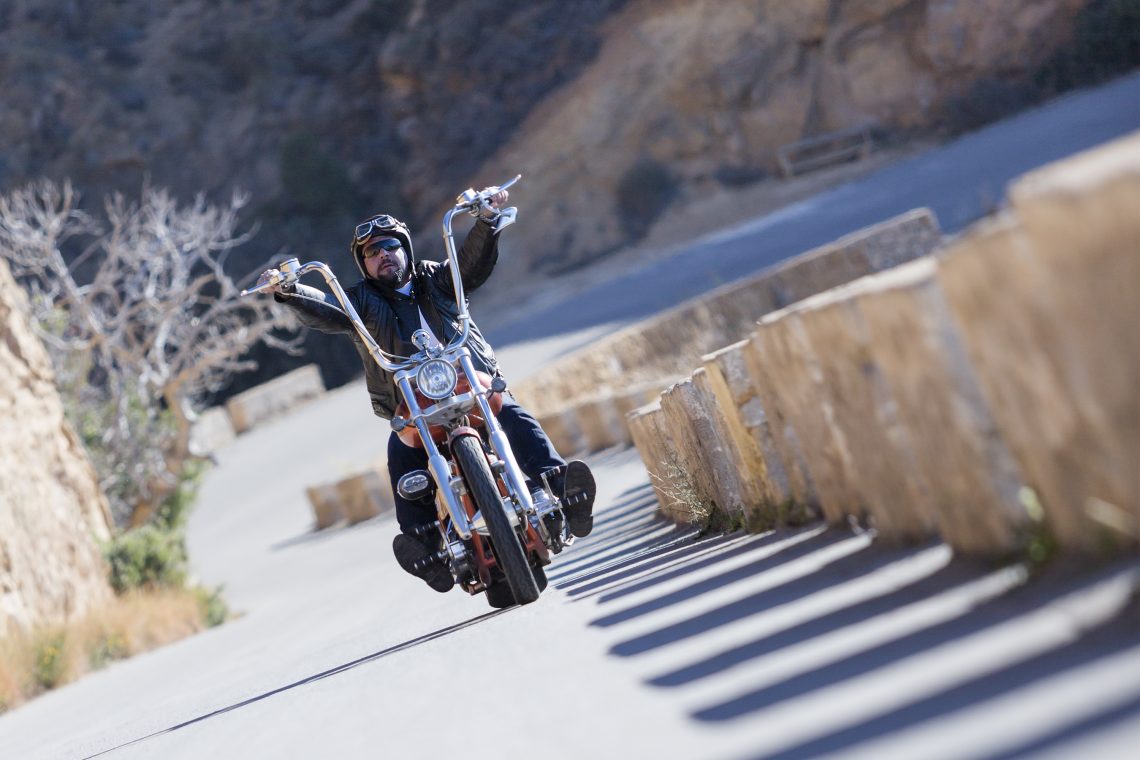 Motorcyclists are some of the most vulnerable drivers on roadways. They are moving quickly and riders are not protected. Just as any vehicle driver can find themselves in an accident, motorcyclists often find themselves injured following a vehicle accident.
Some of the causes of these accidents are personal motorcycle driver failure like not wearing a helmet or following road signs. However, many times motorcyclists are not at fault.
Some of the most common causes of motorcycles accidents caused by another party include:
Distracted driving
Bad weather: Rain, snow, wind, and hail
Drunk drivers or drivers under the influence of illegal substances
Drivers operating their vehicles aggressively
Failure to observe traffic signs or lights.
Defective motorcycle parts
Hazardous road conditions
A Closer Look at Motorcycle Accident Statistics
California Traffic Safety Quick Stats demonstrate that motorcycle riders are doing their part. Fatalities among riders went down 9.4% from 2018 to 2019. Plus, deaths associated with helmet violations decreased by 18%.
Even so, the NHTSA names motorcycle riders "overrepresented" among the numbers of traffic fatalities. They point to the lack of motorist awareness as one of the reasons why so many riders are hurt. In fact, a motorcyclist is about 29x more likely to die in a vehicle accident than those in passenger cars.
For instance, in a 2018 report from NHTSA they call attention to accidents occurring "outside the vehicle." This includes motorcyclists, pedal cyclists, and pedestrians. The proportion of people killed "outside the vehicle" increased from 20% in 1996 to 34% in 2018.
One issue at hand is lane splitting. For example, in California lane splitting is permitted whereas in many other states it is prohibited or not commonly accepted. If there are trucks on the road or drivers who are not familiar with these laws, this can present a hazard on the roadway and impede the safety of motorcycle riders who are lane-splitting. Another problem is when drivers aren't carefully examining blind spots.
Check out our Motorcycle Accident Statistics page for more information about motorcycles on the road and other motorcycle safety facts.
Common Injuries Sustained In Motorcycle Accidents
Motorcycle accidents can cause catastrophic injury for victims and fatal motorcycle accidents can be traumatic for surviving family members.
Often injured motorcyclists find themselves with life-threatening injuries. Some of the most common injuries are:
Skull fractures
Eye injuries
Broken jaws, cheekbones, and noses
Broken bones and fractures
Dislocations
Neck and head
Lacerations & Road Rash
Ligament Tears
Back injuries and spinal cord injuries
Internal hemorrhaging
Internal organ injuries
The majority of these injuries require that the injured person seek emergency medical attention, including an ambulance ride. This type of medical assistance does not come cheap, and therefore, the victims of these accidents often find themselves in enormous debt from medical expenses.
Recoverable Damages from Motorcycle Accidents
An injury victim's medical bills, both for past treatment and necessary future treatment, are fully recoverable. Still, there are frequently other damages that can be recovered on behalf of an injury victim.
These include:
Medical Bills & Expenses
Pain and Suffering
Loss of Earnings/Wages
Loss of Consortium
Punitive Damages
Funeral & Burial Expenses
What to do After a Motorbike Accident in Los Angeles?
Immediately following a motorcycle accident, you may or may not be able to take action depending on the severity of your injuries.
If, following your accident, you simply have no idea what to do, we've outlined some of the high-level steps to take that will help should you need to file a personal injury case after an Orange County motorcycle accident:
1. Call 911 
Calling emergency aid means the police and required emergency responders will arrive at the scene of the incident to provide the required support to those in need.
Plus, police will issue an official police report that will detail the accident and conclude who was at-fault for the motorcycle vehicle accident. The police will also obtain the contact and insurance information of all parties should you be unable to do so yourself.
2. Document and Collect Information
If possible, take photos of the accident scene, the vehicles involved, and your injuries. You should also get the contact and insurance information from all the drivers who were involved in the accident. Collect as much contact information as possible from any eyewitnesses.
3. Seek Immediate Medical Attention

If you or a loved one has suffered severe injuries as a result of a motorcycle or car accident, do not hesitate to seek medical treatment. It is crucial that you receive proper care as soon as possible. Even if you do not believe you were seriously hurt, you may have internal injuries or a brain injury that is not immediately apparent. Making sure you get proper medical treatment is very important for your claim.
4. Determine The Severity of Your Case
While calling your insurance carrier is important following an accident, the insurance adjuster is likely not on your side. Speaking first with an experienced personal injury motorcycle attorney can help ensure that you are prepared to correctly answer questions that may come from the insurance provider and avoid getting stuck accepting a low offer for an accident claim that is actually worth much more.
Our team at MKP Law Group, LLP is happy to provide a 100% free initial consultation to evaluate your motorcycle accident injury case.
We particularly advise speaking with a lawyer if your case involves a traumatic brain injury, spinal cord injury, or even wrongful death.
Do Not Make These Mistakes!
Our Orange County motorcycle accident lawyers often work with victims of motorcycle crashes who make mistakes after an accident.
Accidents can be very stressful and jarring, so often victims caught in the anxiety and stress of the moment are not thinking straight. Others are intimidated.
Here are common errors in judgment to avoid:
Fleeing the scene: Do not leave! The other driver may accuse you of hit-and-run, and you are not there to set the record straight. In fact, it is best to remain on the scene and have the paramedics check you out. If they suspect fractures or a head injury, you will need to go to the hospital.
Telling everyone you are fine: It might not even be a lie. In the moments following an accident, adrenaline is high and may shadow or distract from any true feelings of pain. Bruises rarely show up immediately and may not become visible for a few hours. If you say that you are fine and this statement is recorded in any way, the insurance company can (and will) use your statements as a statement of fact to discount a correlation between the accident and any injuries that may become apparent as time passes.
Apologizing for your role in the accident: Common courtesy has many people apologize for things that are not their fault. It is one of the social niceties that can come back and hurt your case. The insurer and the police may view an apology as an admission of guilt.
What you can do to help protect yourself, if, for whatever reason, the police do not respond or the other driver wants to leave the scene, is take pictures. Get as much footage as you can. Include the scene of the accident, the ground showing the road's condition, the license plate of the other car, the driver, possible witnesses, damage to your bike, and damage to yourself.
Contact MKP Law Group, LLP, the Motorcycle Accident Lawyer Orange County Trusts
In the aftermath of a motorcycle accident, you need to protect your rights. The insurance company will not be looking out for you. Instead, they are looking for ways to settle the case quickly.
At MKP Law Group, LLP, we have motorcycle injury lawyers that are highly experienced in handling motorcycle injury accident cases and have obtained large settlements on behalf of our clients. Not only can we give you a better idea of whether or not your case has enough clout for us to move forward with it, but we will also fight passionately to get you the compensation that we think you deserve. Plus, we know how to deal with insurance companies so that you do not have to and, instead, can focus on getting better.
This is not the time to be reading the fine print of settlement statements or staying on the phone with an insurer for hours on end. Have your attorney do that. For you, the focus right now must be getting over the damage the motorcycle crash caused.
Contact the MKP Law Group, LLP's team today to schedule your 100% free case evaluation. As always, if we don't win your case, you don't owe us a dime.
Reviews & Testimonials
We work hard to do what's right for our clients. Here are some of the most recent reviews of our legal services.
Read Kim O.'s review of MKP Law Group on Yelp
Read Mike R.'s review of MKP Law Group on Yelp
Read Joel Michael A.'s review of MKP Law Group on Yelp